Three Tools for Small Businesses
Mon, 11/09/2009 - 16:12 — Chris
I had an opportunity to speak to a few Everett (WA) small businesses this morning by presenting at the [Three Morning Seminar Series]. We had limited attendance, so it was a great way to have more intimate conversations with those that were there.
We talked about three Lean Six Sigma tools that are useful for all small businesses:
Mini Kaizen - an easy to use tool that with very little training, everyone in the business can learn and use. It focuses on personal accountability for continuous improvement.
5S - Sort, Straighten, Shine, Standardize and Sustain. A common sense approach to keeping your work space organized and efficient.
TIMWOOD - The enemies of productivity. Useful when looking for improvement opportunities.
Download the entire deck to see what you missed!
Recent Updates
Microsoft Outlook Add-In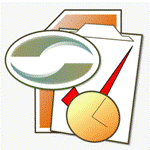 Achieve greater focus by shifting your attention from e-mail to accomplishing what matters most!
Company News
Stay up to date with our newsletter!