Wedding Planning Template using Microsoft Outlook
Sun, 09/12/2010 - 12:16 — Chris
This template provides a list of tasks to help plan a wedding using Ceptara's [Organizer] Outlook Add-in. After downloading, 'Import the WBS' using the Project Explorer.
It provides a tree structure with tasks and sub-tasks focused on six main milestones:
Develop Goals, Contracts and Budget - a focus on the strategic planning of the overall event, including what kind of wedding to plan, whose accountable for what steps and how much will be spent.
Plan the Attire - a focus on the wedding party's attire
Plan the Memories - what to do to assure the wedding party and the guests will remember the event.
Plan the Venue - a focus on assuring all tasks associated with the venue plan from step 1 are accomplished.
Plan the Guests - making sure the guests know where to go and where to stay
Sweat the Small Stuff - an accounting of tasks according to a timeline from 4 months out to 1 day before.
Note: this template was adapted from a template provided for Microsoft Project.
Recent Updates
Microsoft Outlook Add-In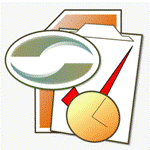 Achieve greater focus by shifting your attention from e-mail to accomplishing what matters most!
Company News
Stay up to date with our newsletter!